Kazan Declaration: AVAILABLE TO READ
THE KAZAN DECLARATION
Back in August, Mission: Talent presented the Kazan Declaration at the 45th WorldSkills Competition, which was adopted by the WorldSkills International General Assembly and signed by experts and delegate. Now, the document, which sets out a human-centred approach to tackling the growing 'skills gap' crisis, is available for you to read on the WorldSkills website! The declaration is a global pledge to create a stimulating environment, which allows all to take responsibility for their life long learning, enabling all people to receive the necessary skills – cognitive, social, cultural, green, and digital – to secure a promising and sustainable professional future.
This Declaration aims to support the achievements of the UN Sustainable Development Goals, for a better and more sustainable future for all. The WorldSkills Kazan 2019 Declaration also follows the agenda of WorldSkills Vision 2025. It follows the Youth Declaration on the Future of Skills and TVET which was realised at WorldSkills Abu Dhabi 2017.
THE MASS UNIQUENESS REPORT
The Mission Talent – Mass Uniqueness:  A Global Challenge for One Billion Workers report, put together by our partner Bonston Consulting Group (BCG), revealed some astounding truths. 
By 2030: 
THE 5 HUMAN-CENTRIC PRINCIPLES
The Kazan Declaration sets out 5 human-centric principles, crucial to adopt if we are to bridge the skills gap. If you've been following us closely, you would have seen how some of the best practice cases we have collected through our Navigator adopt these principles successfully and achieve brilliant results.
Skills of the future for everyone
Self-conscious development
Transparent and fair opportunities
Skills mobility
Appreciation of values and Respect for the individual
PRINCIPLE 1: SKILLS OF THE FUTURE FOR EVERYONE
Every person should receive a set of competences for employment. These should include basic and cognitive skills, as well as social, cultural, green, and digital competences.
An excellent example from our Navigator, is the ALEKS initiative. Since adopting the learning platform, Arizona State University increased College Algebra pass rates from 62% to 74%, and Downtown Boxing Gym averaged 25.5% in maths after just 9 weeks!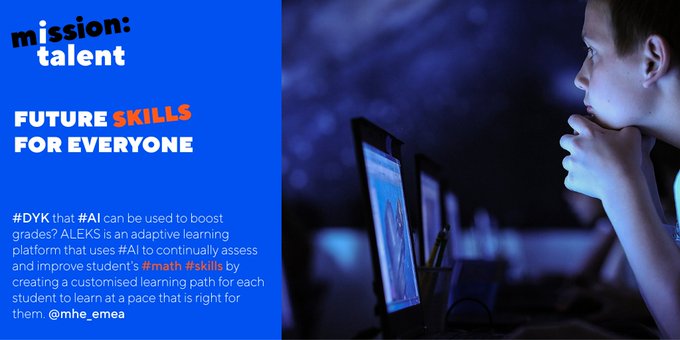 PRINCIPLE 2: SELF-CONSCIOUS DEVELOPMENT
Every person's professional development should follow a unique and individual path throughout their life.
Singapore have applied this principle to their teaching. The country set up the "Enabling Teachers" programme, aimed at providing teachers with opportunities to develop, resulting in 93% participating in personal development workshops.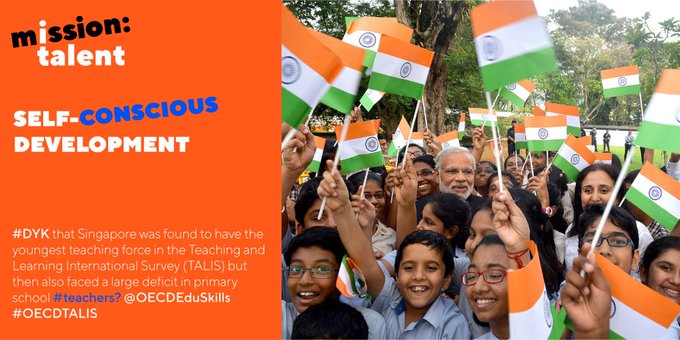 PRINCIPLE 3: TRANSPARENT AND FAIR OPPORTUNITIES
Information on employment and educational opportunities should be easily accessible. Employees should be hired on the basis of their skills and actual experience, regardless of their formal education, life situation, gender, physical health, or social status.
Sweden empowers and gives equal opportunity to migrants with their Support and Matching programme. The country is now in the Top 5 countries with the lowest long-term unemployment rate in the EU.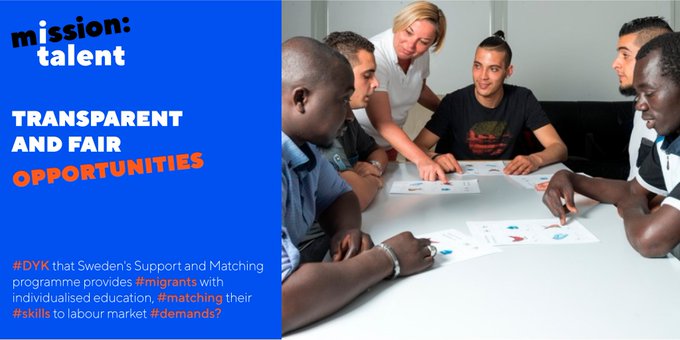 PRINCIPLE 4: SKILLS MOBILITY
Labour mobility, flexible employment formats, and remote (virtual) employment should be available to all regardless of their current place of residence.
Another great best practice from Sweden using this principle, is the country's Right to Leave to Conduct a Business Operation Act. This Act allows people to leave their jobs for up to 6 months to start their own business, knowing that they can return to their job, or a similar one after. Sweden is now Europe's startup capital. Companies such as, Spotify and Skype would not have gotten started without this law.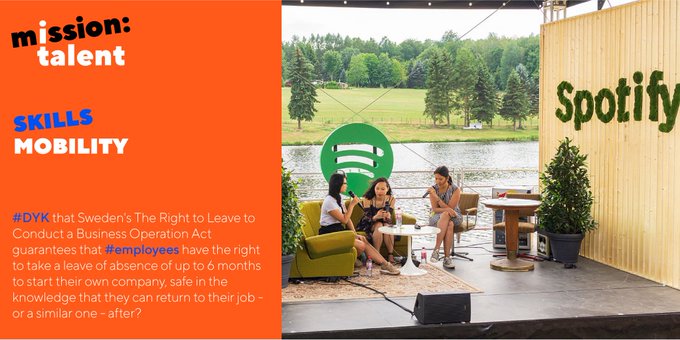 PRINCIPLE 5: APPRECIATION OF VALUES AND RESPECT FOR THE INDIVIDUAL
Workplaces and working conditions should enable self-fulfilment and professional development for all regardless of their values or beliefs with due respect to sustainable development.
Did you know that the UN estimates that 80% of people on the autism spectrum are unemployed worldwide? That is why companies like SAP, which are putting in place practices to hire people solely based on their competence are making headway. Since 2013, the company has hired over 160 people on the autism spectrum, and plan to hire 650 by 2020.